What could you do with 18 million dollars? Well, that is the amount being spent to redo stimulus information site Recovery.gov. This is a classic example of wasteful government spending. Whether it be the city of Los Angeles spending $48,826 on sandwiches from a deli a whopping 80 miles from LA to feed cops during the Michael Jackson memorial, or hundreds of felonious, non-working teachers in New York City being paid their full salaries to, per the AP, "sit around all day playing Scrabble, surfing the Internet or just staring at the wall," or even Town of Union, NY, encouraged to spend $578,000 of stimulus funds it did not request for a homelessness problem it claims it does not have…
Waste is at all levels of government. And it's not just in billions going to welfare, or to bailout banks, private, bloated companies, or even deadbeat homeowners. We are literally being nickel-and-dimed to death. For crying out loud, why on earth would anyone need 18 million dollars to revamp a website?! You could pay a pair or teens or twenty-somethings a couple hundred bucks to renovate and/or enhance this site! The ironic thing is this website aims to better inform taxpayers on how their money is being wasted, er, "spent." How about just making a pie chart to post on the White House website?!
For those concerned about stimulus spending, the General Services Administration sends word tonight that $18 million in additional funds are being spent to redesign the Recovery.gov Web site.
The new Web site promises to give taxpayers more information about where their money is going than the current version of the site.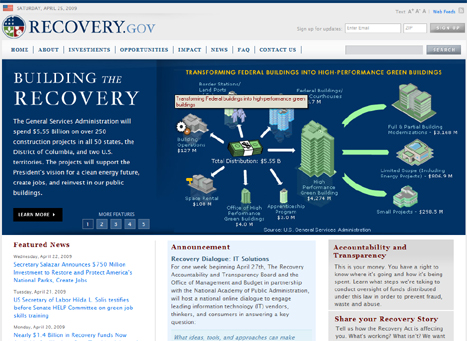 "Recovery.gov 2.0 will use innovative and interactive technologies to help taxpayers see where their dollars are being spent," James A. Williams, commissioner of GSA's Federal Acquisition Service, says in a press release announcing the contract awarded to Maryland-based Smartronix Inc. "Armed with easy access to this information, taxpayers can make government more accountable for its decisions."
The contract calls for spending $9.5 million through January, and as much as $18 million through 2014, according to the GSA press release.
"We are pleased that another major milestone has been achieved," Earl E. Devaney, chairman of the Recovery Accountability and Transparency Board, says in the press release. "We thank the GSA for its assistance and look forward to working with Smartronix."
How does this post make you feel?
Other Stories You Might Like
Related Stories